Richmond, VA Area
Aura Holistic Counseling 4050 Innslake Drive STE #165 Glen Allen, VA 23060
9am-5pm Saturday, 01/11/2020 . 9am-5pm Sunday, 01/12/2020
Cost:
$475.00 ($200 deposit before 12/11/2019, balance of $275 due the morning of class)
Call 804-346-4304 to make a deposit payment via VISA/Mastercard or to make payment arrangements if cash or check.
Class fee includes lecture, discussion, demonstrations, attunements, hands-on practice, a 180 page class manual and certificate, as well as ongoing teacher support.
Your payment is non-refundable but can be moved to a future training date.
Please contact Urvashi at Aura Holistic Counseling if you have any questions or to arrange a different payment option
804-346-4304
What to Expect in this Workshop:
Aura Holistic Counseling's training classes include both Reiki Levels I & II and is a combination of the Western style as introduced by Mrs. Takata, the traditional Japanese style, and Holy Fire® Reiki, introduced by the International Center for Reiki Training (ICRT) in 2014. At completion of the class, you'll be able to give Reiki treatments to yourself and others. After practice and integration time, students can begin a professional Reiki practice or volunteer as a Reiki practitioner.
The Following Subjects are Taught:
The origin and history of Reiki
The nature of Reiki energy, why people get sick and how Reiki heals
The Reiki Ideals
The complete hand placement system
Gassho meditation
Byosen Scanning: Using the sensitivity in the hands to locate areas needing healing, (usually in the aura) and to treat them.
Reiji-Ho: Using inner guidance to know how and where to treat
Kenyoku: Dry bathing, a method to purify your energy field
Gyoshi-ho: Sending Reiki with the eyes
Sending Reiki at a distance
Reiki II symbols: How to draw, activate and use them. Their many uses are explained and their inner meaning is discussed. Practice time is given so students know from experience how the energy of each symbols feels and the results each symbol produces.
Clearing and sealing a space
Using music to raise your vibration
Attunements (called Placements) for Reiki Levels I and II are given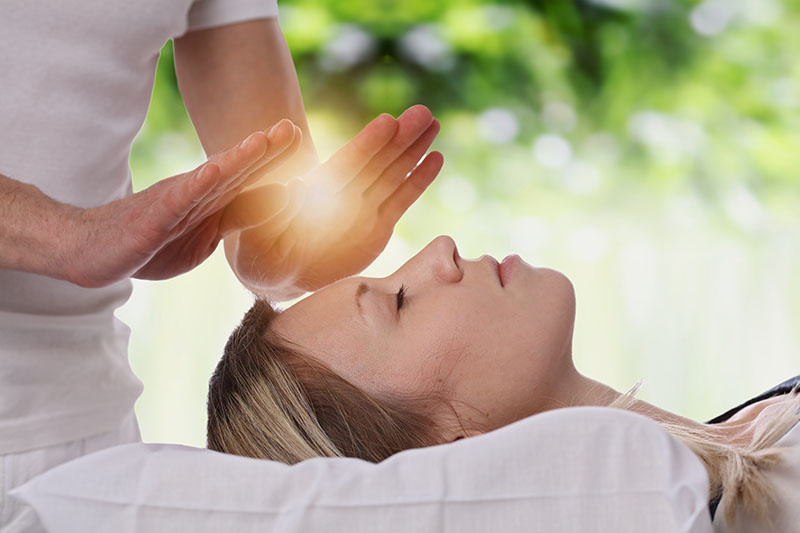 Students will experience giving and receiving a complete treatment using Byosen scanning and the hand placement system. Practice time is given using all the Reiki II symbols as well as the four techniques mentioned above. Healthcare/mental healthcare professionals, holistic practitioners, and massage therapists learn tools to support clients in the healing process.
About the Instructor: Urvashi Mehta is a Reiki Master with the International Center for Reiki Training (ICRT) and has been practicing since 1999 when she became a Reiki Master for the first time. Since then, she has provided Reiki services to those diagnosed with AIDS/HIV, people diagnosed with various mental health issues, and those diagnosed with breast cancer. To learn more about Urvashi, CLICK HERE
Books & Supplies will be provided upon deposit and in class. The class is a combination of lecture, discussion, demonstration and hands-on practice time.
Dress – Plan to bring or wear loose, comfortable clothing and wear layers as the Reiki Energy can be manifested as heat.
Feel Free to bring your favorite snacks in addition to your lunch as you may be hungrier than usual due to the Reiki Energy Work; more snacks, non-caffeinated tea, and water will also be provided.
Holy Fire® is the registered service mark of William Lee Rand.